So, like the Phoenix rising out of the ashes, or
Daenerys Targaryen
emerging from the funeral pyre of her betrothed with baby dragons in tow, I set forth from the charred remains of our Chevy Celebrity as a full-fledged, fully committed, Bikeist. With my long-suffering-wife taking our only car to New Haven every day, my only option to get to work was my good old red Cannondale. If you really want to become one with your bike, and biking, commit to it as your primary form of transportation. While knobby tires were fine for my occasional bike-commute sojourns, they quickly became unacceptable for 120+ miles per week in the saddle. Friction was the enemy! So, I headed to my local bike shop and picked up a pair of "slicks." Pretty sure they were Specialized "Fat Boys" -- no tread, fat, tires designed for 26" mountain bike rims. They rolled nice and smoothly, but a better name would have been "Flat Boys." Those tires never met a thorn, pebble, small glass shard, or anything remotely pointy that couldn't penetrate their entirely permeable skin. Thus, I quickly became the master of the roadside quick patch repair -- a crucial skill for bikeists everywhere. Regardless of how good one gets at patching a tube, though, we never cease to be shocked and aghast at every single flat. Still am -- probably even more so these days given the wonderful advances in bike tire technology.
Weather was my other big nemesis. Where a little rain, or plummeting mercury, drove me to the Celebrity previously, now I had no choice but to brave the elements. Luckily, my years playing baseball in the Northeast in March (and soccer in November) had hardened me to the experience of exercising in icy conditions. Most useful, though, was my experience with cross-country skiing in Syracuse and Northeast Connecticut. Biking and nordic skiing seemed to be remarkably similar in level of effort, and the same clothing/gear that enabled me to ski comfortably in winter, came in handy for winter bike commutes in Connecticut (thanks LL Bean!).
Luckily, though, I was rescued from the very notion of Winter within the first year after the Celebrity's demise. The Navy had the good sense to transfer us to Southern Spain, and it's fabulous, Mediterranean, bike-friendly climate. We lived within view of the coast, exactly seven miles from my office on base. Again, my long-suffering-wife got our sole means of combustion-engine driven transportation (an '81 Buick Skylark I got from a Navy buddy for $475 because he was getting out and too embarrassed to drive it to work at the firm he was joining as he left the Navy). I had a dedicated path that took me the two miles to the "Puerto" gate, and then it was five miles along a wide shoulder inside the base. Wonderful commute in perpetually perfect, San Diego-like weather! With ten miles less on the road each day, I was left with lots of energy on weekends to explore the country and coastal roads that surrounded our village of El Puerto de Santa Maria. While driving windy Spanish roads and avoiding the matador-inspired Spanish drivers was often harrowing for American transplants, I was always impressed at the wide berth they always gave to cyclists. Little known to most Americans is the fact that Futbol-mad Spain actually considers cycling to be its national sport. Thus, it was many a worry-free weekend mile I spent with hombres like this exploring the hills of Andalucia for my three and a half years in Spain: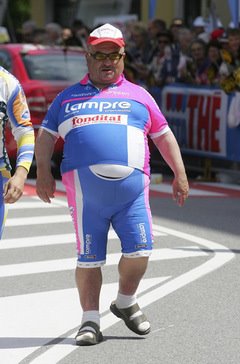 Yes -- every cyclist in Spain dresses as if they are on a professional cycling team -- regardless of their fitness level. While I, personally, found it to be quite endearing, it definitely reinforced my personal aversion to spandex/lycra. What looks wonderful on 135 pound world-class athletes, looks ridiculous on the rest of us.
As explored above, once one commits one's self to getting into the saddle each and every day, one starts to become a bit more finicky about some of the smaller nuances of riding. Thus, my old Cannondale, which had seemed like the perfect commuter, was starting to feel a bit clunky to me, especially on longer weekend rides. So, it was back to the catalogs for me, where I discovered the ultimate commuter, street, do-everything bike:
Cannondale invented a whole new genre of bike with its "Bad Boy" released in 1999. It was marketed heavily in Europe, with images of bike messengers navigating city streets on the sleek matte-black frame with black decals. I drove all the way to Sevilla to get mine and was thrilled with it. So nimble, so tough, so beautiful! Except when it was in the shop (pressing the old Red Bomber back into action) every commute, ride and trek I did for the next thirteen years was on my indestructible (except for the original, cheap, Hutchinson "Top Slick" tires which I quickly ditched for Gatorskins) Bad Boy. The 26" rims accommodated my mountain bike tires, and the Bad Boy performed as admirably off road as it did on. My only mistake was that, with my mountain-biker mentality, I got the bike a little small for my size, favoring the clearance desired for mountain biking. This took its toll as I transitioned to longer treks later on -- leading to me, ultimately, getting a full-fledged, properly sized road bike.
There were so many great rides, treks and commutes on the Bad Boy, that I can't even begin to detail them here. So, loyal reader, you will have to bottle your anticipation until Thursday when I'll thrill you with some of my greatest moments in the saddle on my Cannondale Bad Boy. Lucky you!
Next up: The Bikeist comes to San Diego!